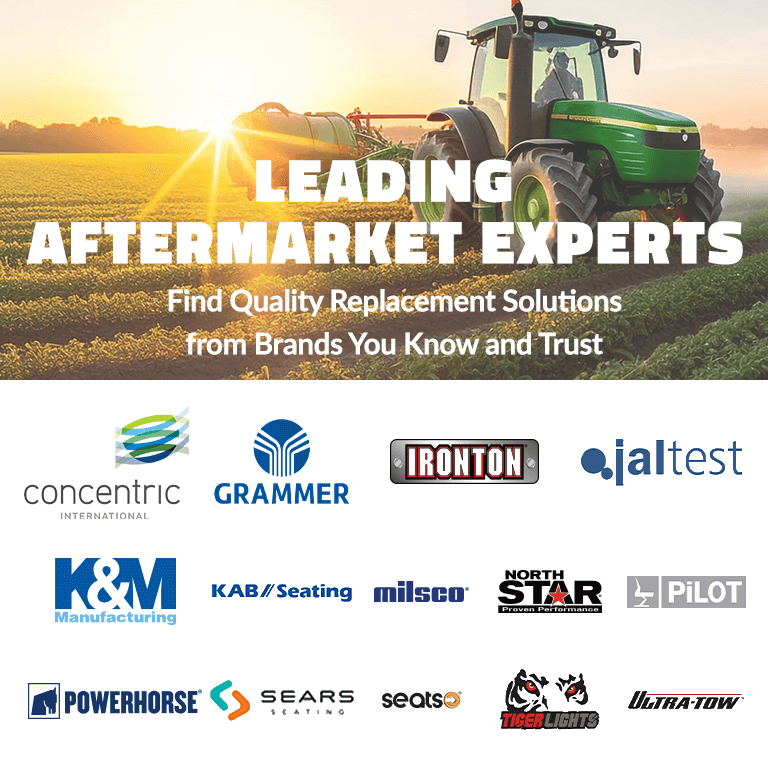 Launched in 2000, our main website Tractorseats.com stores all of our product content and allows you to easily and quickly find the product you need to stay comfortable. Find what you need using the Make Machine Model search to find an exact product match, browse by product category, or use our Smart Search field to search by keyword.
Agriculture Equipment Solutions:
Seats & Suspensions, Mirrors, LED Work Lights, Cab Interior Kits, Steps & Handrails, Instructional Seats, Weight Boxes, Cab Glass, Fenders, Monitor Brackets, Mud Scrapers, Seat Parts, Restoration Seats, Suspensions, Toolboxes, Warning Lights, and More
Launched in 2011, Constructionseats.com is the website to visit if you're in the market for a heavy-duty replacement construction seat. A good seat is the one you don't even think about - the one that does its job day in and day out. We strive to make every seat comfortable and reliable because when you're working hard, it's good to know you'll have comfort where it counts.
Construction Equipment Solutions:
Seats & Suspensions for Backhoe Loaders, Dozers, Excavators, Forklifts, Skid Steers, Telehandlers, Wheel Loaders, and More, Attachments, LED Lights, Suspensions, Toolboxes, and More
Launched in 2019, Greywolfattachments.com showcases the newest K&M Manufacturing line, GreyWolf™ Skid Steer Attachments. Designed to fit skid steers with the standard universal quick attachment and built to make your DIY jobs faster and easier, they are proudly manufactured at K&M Manufacturing in Renville, MN, using top-grade USA steel for durability. These attachments are meant to provide you with the highest quality product.
Skid Steer Attachment Solutions:
Double Quick Attach Grapple, Backhoe, 24 Ton Log Splitter, Tree Puller, Stump Bucket, 2" Receiver Hitch Plate, Rock Devil, and More

"K&M is great to work with because they offer quality product and competitive pricing. They have great Dealer incentives and are prompt to address any warranty or back order issues. Their Sales Team is very knowledgeable about the product they sell."
- John Steffens - Jon's Repair (Clermont, IA)
"K&M has been a family oriented business for a long time and the representatives that call on us are very helpful and want us to do good so they can do good. However they can help use they will and it is very much appreciated in this type of business atmosphere. The catalog provided is user friendly as well."
- Roger Oline - Bodensteiner Implement Co. (Rowley, IA)
I really appreciated Craig and Adam's help in getting the right parts the first time. I am in the parts and service business, so I know your job well and the challenges with meeting every customers needs and expectations. I had a great buying experience."
- Matt Ciesielski - Oxbo International Corp. (Clear Lake, WI)
I appreciate K&M making my transaction so easy. The cost including shipping is very reasonable and competitive. Processing, packaging, and delivery speed was excellent. Kudos to you and your company.
- Randy Klevickas - Retail Customer (East Lansing, MI)
Contact Us
We'd love to hear from you!
K & M Manufacturing Co.
308 NW 2nd St.
Renville, MN 56284
Phone: (800) 328-1752
Email: sales@tractorseats.com